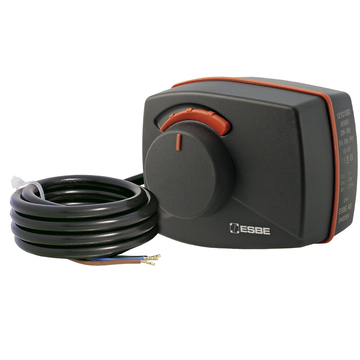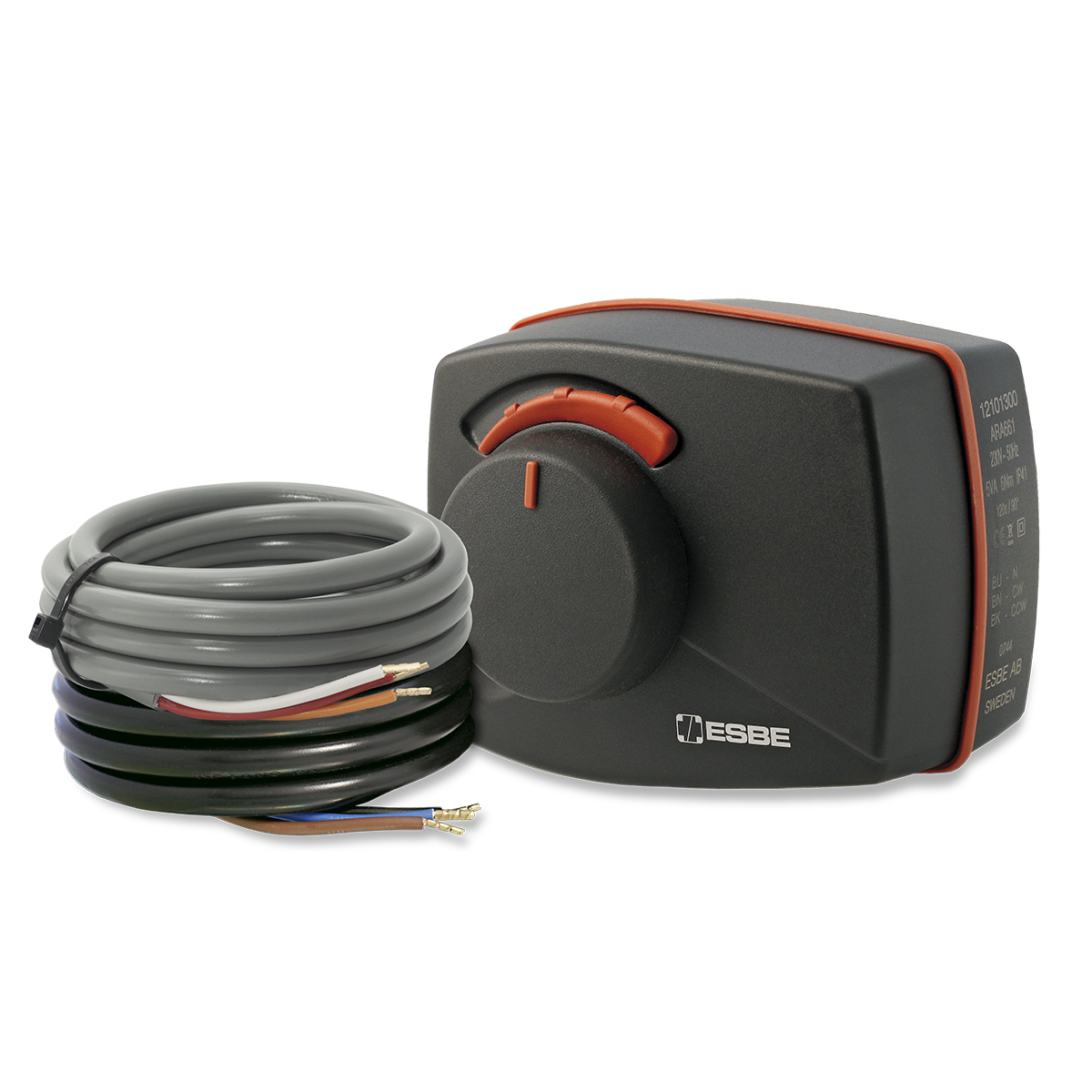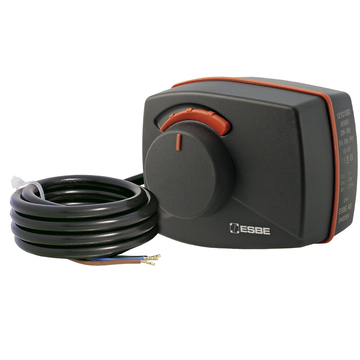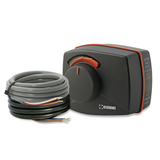 Actuator
ARA600 2-point
Reliable and quiet operation.
Can be used for both 2-point and 3-point control signal.
Perfect match between the actuator and ESBE valve.
Auxiliary switch available.
Series ARA600 with 2-point (on/off) signal is suitable for diverting operations together with valves such as VRG230. In these applications will only the end-positions of the actuator operating range be used. The compact actuator is designed for operating rotary valves DN 15-50 and has an operating range of 90°. The series can easily be manually operated by the pull-and-turn knob on the front of the cover. Auxiliary switch, available as premounted or optional kit, can be set in any position and is easily set by a unique solution.
Product range
ARA600, 2-point 230V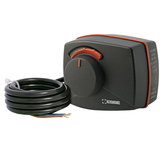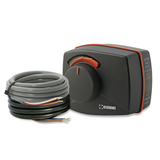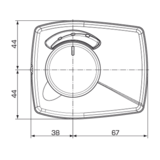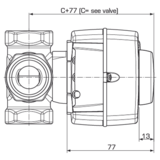 | | | | | | | |
| --- | --- | --- | --- | --- | --- | --- |
| Art.no. | Reference | Voltage [V AC] | Running time 90° [s] | Control signal | Torque [Nm] | Note |
| 12120700 | ARA635 | 230 | 15 | 2-point SPST | 3 | Recommended only for valves DN 15-32. |
| 12121000 | ARA636 | 230 | 15 | 2-point SPST | 3 | With premounted auxiliary switch. Recommended only for valves DN 15-32. |
| 12120800 | ARA645 | 230 | 30 | 2-point SPST | 6 | |
| 12121100 | ARA646 | 230 | 30 | 2-point SPST | 6 | With premounted auxiliary switch. |
| 12120900 | ARA655 | 230 | 60 | 2-point SPST | 6 | Replaces 12002700 |
| 12121200 | ARA656 | 230 | 60 | 2-point SPST | 6 | With premounted auxiliary switch. Replaces 12002900. |
ARA600, 2-point 24 V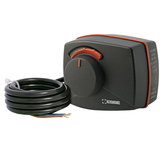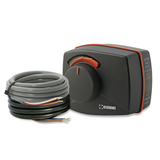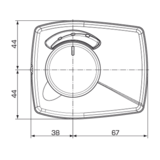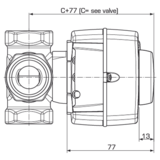 | | | | | | | |
| --- | --- | --- | --- | --- | --- | --- |
| Art.no. | Reference | Voltage [V AC] | Running time 90° [s] | Control signal | Torque [Nm] | Note |
| 12120100 | ARA635 | 24 | 15 | 2-point SPST | 3 | Recommended only for valves DN 15-32. |
| 12120200 | ARA645 | 24 | 30 | 2-point SPST | 6 | |
| 12120600 | ARA656 | 24 | 60 | 2-point SPST | 6 | With premounted auxiliary switch. |
Installation support
Manual and Automatic operation, ARA600
ARA600 on VRG130, advantage against 3MG
How to install ARA600 actuator on VRG valve
How to install ARA600 actuator on 3MG valve
Technical data
Technical data
Power supply:
24 ± 10% V AC, 50 Hz;
230 ± 10% V AC, 50 Hz
Power consumption:
24V: 3 VA;
230V: 5 VA
Enclosure rating:
IP41
Protection class:
II
Torque:
See dimension table
Rating auxiliary switch:
6(3) A 250 V AC
Weight:
0,4 kg
Ambient temperature, max.:
+55 °C
Ambient temperature, min.:
-5 °C


Wiring
Accessories and Spare Parts
Adaptor Kits
| | | | | | | |
| --- | --- | --- | --- | --- | --- | --- |
| | Art No. | Reference | Designation | Description | Note | Instruction manual |
| | 16000500 | ARA803 | ESBE valves series VRx, MG, G, F, BIV, H, HG | ESBE ARA803 Adaptor kit ESBE valves series VRx, MG, G, F, BIV, H, HG. | Series ARA600, CRA110, CRA140, CRA150, CRB100, CRC110, CRC140, CRD120, CRS130. Comes with the actuator or Controller. | |
| | 16000800 | ARA806 | Honeywell Centra Corona valves, series V5433A, V5433G, V5442A, V5442G | ESBE ARA806 Adaptor kit Honeywell Centra Corona valves, series V5433A, V5433G, V5442A, V5442G. | Series ARA600, CRA110, CRA140, CRA150, CRB100, CRC110, CRC140, CRD120, CRS130. Order separately. | |
| | 16000900 | ARA808 | Lovato valves | ESBE ARA808 Adaptor kit Lovato valves. | Series ARA600, CRA110, CRA140, CRA150, CRB100, CRC110, CRC140, CRD120, CRS130. Order separately. | |
| | 16000600 | ARA805 | Meibes valves | ESBE ARA808 Adaptor kit Meibes valves. | Series ARA600, CRA110, CRA140, CRA150, CRB100, CRC110, CRC140, CRD120, CRS130. Order separately. | |
| | 16001000 | ARA809 | PAW valves | ESBE ARA809 Adaptor kit PAW valves. | Series ARA600, CRA110, CRA140, CRA150, CRB100, CRC110, CRC140, CRD120, CRS130. Order separately. | |
| | 16000700 | ARA807 | Watts valves | ESBE ARA807 Adaptor kit Watts valves. | Series ARA600, CRA110, CRA140, CRA150, CRB100, CRC110, CRC140, CRD120, CRS130. Order separately. | |
| | 16001100 | ARA810 | WITA valves Minimix, Maximix, H10, H9GG, H9MS | ESBE ARA810 Adaptor kit WITA valves. | Series ARA600, CRA110, CRA140, CRA150, CRB100, CRC110, CRC140, CRD120, CRS130. Order separately. | |
Spare parts
| | | | | | | |
| --- | --- | --- | --- | --- | --- | --- |
| | Art No. | Reference | Designation | Description | Note | Instruction manual |
| | 17050600 | ARA902 | Knob ARA902 | ESBE ARA902 Knob ARA600 | | |
Download area
| | | |
| --- | --- | --- |
| Type | Preview | Download |
| Data sheet | ARA600, 2-point | |
| Installation instruction | ARA600, 2-point | |
| Installation instruction | Auxiliary switch | |
| Certificate | Declaration of Conformity ARA600, 2-point | |
| Certificate | Building Product Declaration BPD3 | |
| Image | ARA600, high res | |
| Image | ARA600 auxiliary switch, high res | |
| 2D Image | ARA600 | |
| 3D drawing (stp file) | ARA6x1, ARA6x3, ARA6x5, ARA6x7, ARA6x9 with CW scale position | |
| 3D drawing (stp file) | ARA6x2, ARA6x4, ARA6x6, ARA6x8 with CW scale position | |
| 3D drawing (stp file) | ARA6x1, ARA6x3, ARA6x5, ARA6x7, ARA6x9 with CCW scale position | |
| 3D drawing (stp file) | ARA6x2, ARA6x4, ARA6x6, ARA6x8 with CCW scale position | |